---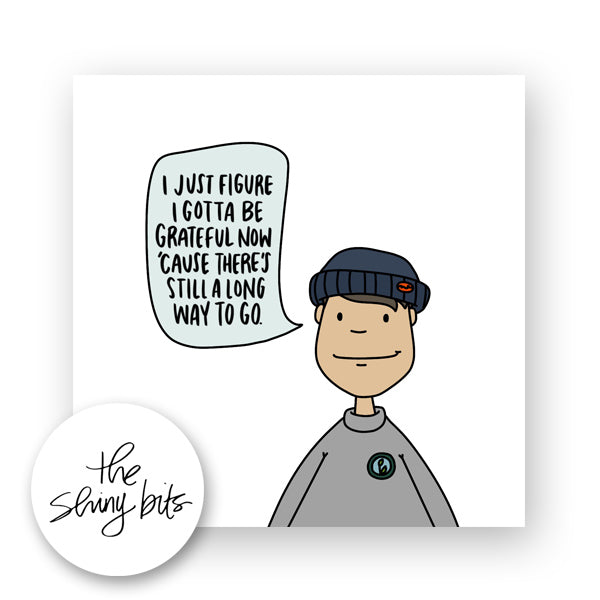 Inspired by conversations with people I meet, these printable portraits offer a bit of story, and a good reminder of what we learn when we pause and listen to those around us. We're in this together, after all. 
Long Way to Go: 
I took the seat across the aisle, and after answering that I was doing okay, and asking how he was, he said, "just thankful to be up and kicking, headed to work with my lunch packed and and I didn't even forget my spoon." I must have smiled bigger than he expected because he grinned that look we get when it feels like someone just "got" what we were saying, told me his parents both lived into their nineties, "which is a swift kick if you believe all this life is short stuff." When I asked later if I could draw him, he said nobody would want to see some old guy, but I told him one, he was underestimating people, and two, no one I draw ever looks old anyway. I showed him what I do, and he asked that I include the pin on his hat so he wouldn't look so boring, and because he'd gotten it as an award at work. Some days I'm all a grumble with what on earth I'm supposed to be doing with this life, and some days a fifteen minute bus ride puts it all right back into perspective.
You'll receive a high quality printable PDF which includes a 5x7 and 4x4 version of the print, along with the original backstory that inspired the illustration.
This is a digital product, and no physical items will be mailed.